The concepts of Big Data, Internet of Things (IoT), and Artificial Intelligence (AI) have been with us for a while now. Yet the speed of development in these areas has increased exponentially over the past decade.
The emergence of cloud computing and the dramatic fall in the cost of data storage have meant the routine deletion of potentially valuable data has stopped. Instead, there is a widespread consensus on the hidden value in the data, with storage being a critical prerequisite to unlocking its potential. As such, convenience and grocery retailers have invested heavily in data warehouse solutions, capable of storing huge volumes of data.
A shift in retail shopping habits
One of the most notable changes in food retail caused by COVID-19 is the flux in customer shopping habits. The trend towards online and convenience shopping has been steadily growing for at least 15 years. Large superstores offering a one-stop-shop for food, general merchandise, and clothing had fallen out of favor, with the race to grow space declared over by Tesco in 2013. The surge of the discounters Aldi and Lidl and for on-the-go convenience shopping was the order of the day. Step into our new reality and the pattern looks somewhat different. According to IGD, in comparison to its forecasts for 2020, supermarkets and hypermarkets look set to grow by a further £4.9bn, convenience by £1.8bn, while online grows by £1.3bn and discounters lose £0.1bn. The changes afoot in the US are more pronounced. Convenience takes a $4.6bn hit, while supermarkets and hypermarkets gain $31.9bn, online benefits by $11.9bn, with discounters' share of the market falling slightly.
The benefits of customer mission profiles
How exactly the trading environment and customer behavior lands is uncertain, but we can be sure that customer missions have changed. Maybe for good. Having a clear understanding of customer mission profiles and designing the offer that wins in their mission of choice is going to be key moving forward.
As illustrated below, mission profiles form part of an ecosystem with customers, departments, formats, and stores. Stocking the right products that customers will demand is a fundamental analytical challenge. Getting it wrong can lead to suboptimal sales growth, unnecessary waste, poor on-shelf availability, and labor productivity challenges.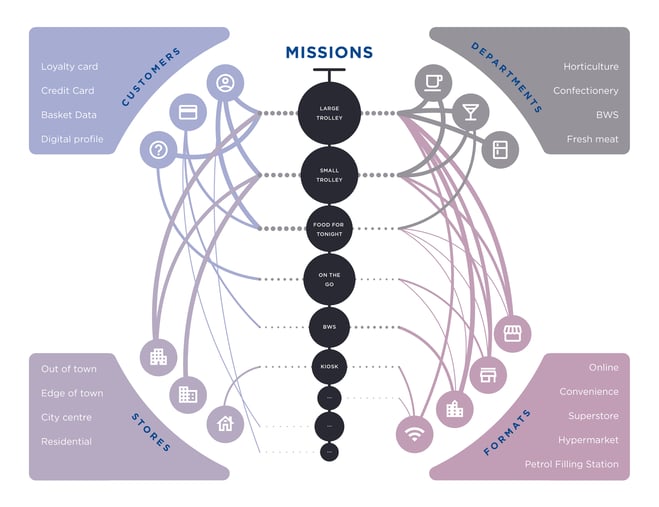 Using grocery data analytics to competitive advantage
The emphasis from storing data to extracting value from it has been moving consistently over the last five years. There have been intensive developments to move beyond reporting and simple dashboard solutions to AI-driven algorithmic statistical models. This approach unearths the hidden patterns and relationships in data that allow retailers to inform decisions, both strategically and operationally. COVID-19 has caused many uncertainties, but we are confident that the retailers who will succeed in the new normal will be those that extract value from their data with grocery data analytics, using it as a source of competitive advantage – now and in the future.