Across the past year, we have seen dramatic shifts in food and grocery retail that show no signs of slowing down. However, there are some common truths that exist no matter the time or the retail channel—features that usually mark out success. I view the following as increasingly important for roadside convenience retail across the next five years as the offer expands beyond fuel, tobacco, confectionery, and soft drinks:
Growth and optimization of space and range
Cost leadership through sourcing and scale
The location of stores to service an even broader set of customer needs
To achieve prolonged structural success, I predict that winning roadside retailers will look for opportunities to pick up the pace on M&A opportunities that drive scale, sourcing, and supply chain efficiencies, while doing more to understand their shopper and operation through the intelligent application of data analytics.
Business instrumentation
There is no doubt that roadside retailers across the world are recognizing the increasingly blurred channels within fuel retail. The convenience retail offering is evolving towards food, and in particular fresh food, where supply chain and digital expertise are critically important. I predict that, just as we have seen in big box retail, success will be driven by an increased level of adoption of data-driven retail technology. Very few winning businesses have yet to incorporate full data instrumentation across their operations, and retailers such as Walmart, Woolworths, Tesco, and Target now make data a core focus. Once integrated, the signals provide insight into changing consumer behaviors and allow them to evolve and enhance the customer proposition whilst continuously monitoring and driving profitability at the operational level.
Membership to personalization
Fuel loyalty cards have been around for a long time, but we are now seeing them shift from the transactional points-based models to the type of data-driven loyalty marketing that has been seen in big box retailers such as Tesco in the UK, with their game-changing Clubcard loyalty program. Fuel savings will likely remain the top loyalty currency in the near term, but the consumer and behavioral insight gleaned will enable retailers to deliver a tailored experience in the long term.
Making sense of near-real-time customer data, intelligent mathematical models, leveraging artificial intelligence and machine learning techniques, can help brands offer highly personalized and relevant recommendations to each individual shopper. This personalization will be aided by the growing penetration of mobile apps, paving the way for a new generation of offer capabilities utilizing geo-location and proximity identification to deliver the right communication to the right person at the right time.
The impact of COVID-19 has reshaped how customers shop, and this will continue long after its effects have been normalized. We have seen a transformation in the demand for online—not only with Amazon and Walmart, but across many top convenience retailers. 7-Eleven is now offering its products to U.S. customers across nine different digital platforms, with significant expansion across the early months of the pandemic, and helping to deliver a 346% increase in convenience store orders in 2020 according to Edison Trends.
Membership apps and loyalty programs can also provide the opportunity to make life easier for the customer. As shopping habits shift, it is not only important to know what customers want, but how they want it. Apps can drive curbside delivery and click-and-collect services across a broad range of shopping missions, providing great choice with arguably the most convenient of all delivery options. There is also the opportunity to increase traffic for fuel and top-up shops as Walmart has seen through the innovations made in online grocery pickup over the past five years.
These developments will not only provide huge benefits to the customer, but also masses of data to mine for valuable insight every day—including who shops at the store, why they decide to shop there, and whether they will come back for more. They will help convenience retailers to win more customers with a meaningful and compelling offer, and, once they are in, the instrumentation kicks in to connect all of their interactions with the business over time. By harnessing the data effectively, they will build a competitive moat that drives increased loyalty and stickiness for the long term.
Focus on store estate levers
With all of these changes to service driven by the shifts in demand, basket size, customer requirements, and complementary offers, it is vitally important that retailers use and manage their space and range in store as effectively as they possibly can. These site locations should be considered strategic mobility hubs, and a set of leverageable assets.
Big box retailers have realized that they must adapt their retail store layout and range to capture new shopper missions as they emerge—and so must the convenience channel. Dynamic, data-driven space optimization capabilities will be a critical component in the convenience retail technology stack as they focus not only on delivering the right range in the right space, but also on managing the change required to address shopper needs on a more fluid basis.
Gradual automation
There is no question that automation will arrive in every labor-heavy industry. As labor costs grow, efficiencies in store operations and replenishment become ever more important. According to the 'NACS State of the Industry Report 2019,' the average U.S. convenience store had 6.6 full-time employees, attending to customers, overseeing third-party concessions, replenishing shelves, and preparing food. It is right to assume that these costs will be carefully monitored.
As English philosopher Alfred North Whitehead said, "Civilization advances by extending the number of important operations which we can perform without thinking about them."
Retailers should therefore embrace retail technologies that automate their decisions and tasks. Employees should be free to provide services and sell to their customers. We think about this in the same way Boston Consulting Group does when they describe the "Bionic Company."
Despite retailers such as Circle K and Ahold exploring unstaffed stores, my prediction for the next five years is that the evolution of automation will be gradual. We will still be some way off from the mass deployment of commercially and operationally viable unstaffed stores.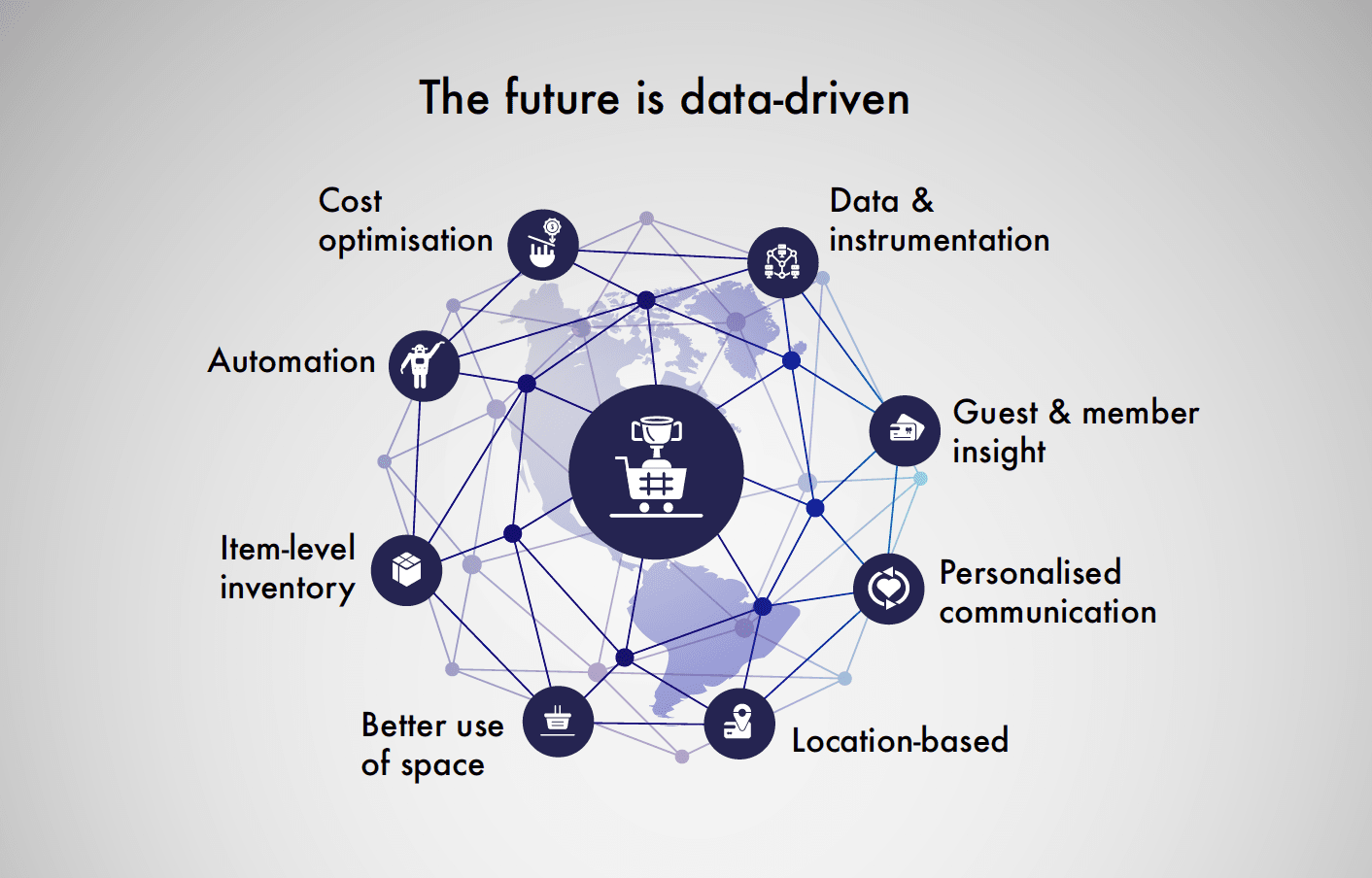 Retail inventory management
With all of this future thinking, it is important to remember that good shopkeeping is, and always has been, about good retail inventory management. As Raman and Fisher said in their 2010 book, The New Science of Retailing, "Inventory… is every retailer's nightmare. Carry too much, and you are left with unwanted surpluses and margin-killing markdowns. Carry too little, and you face stockouts, missed sales, and unhappy customers who end up shopping elsewhere."
With major retailers, we have seen how much of an impact can be had by focusing on these fundamentals. One large retail client, focusing on item availability through a demand-driven model with a simple execution process, consistently improved product availability by 0.5% every year with each percentage point representing 1% of comparable sales growth. As one executive said, the benefits are "virtually endless."
For convenience retailers, it is essential to invest in item-level inventory accuracy and support it with tools and applications that manage forecasting, availability, and waste. This will create meaningful and sustainable returns on investment. I predict that we will see significant investment in the digitization of the upstream and downstream supply chain processes—with integration and connection being key. Excellence in execution is not just about customer interactivity in-store, but also the interactivity and loops of communication between the enterprise and the operative.
A winning proposition
The pandemic has demonstrated the resiliency of the convenience and roadside retail model. The diversity of the offer from fuel and grocery to food and restaurants has enabled it to adapt to adverse trading conditions—dialing up one aspect of the business whilst another is dialed down. With structural tailwinds in its favor, the potential for enormous scale through M&A, and the increasing role of technological innovation to drive consumer understanding, offer personalization, and operational profitability, there are huge opportunities for roadside retailers to win in the next five years and beyond.
---
This extract originally featured in the fifth 'Shape of Food Retailing in the New Normal' paper dedicated to 'Roadside Retail'.