At the 1992 Olympics, the American men's basketball team won the gold medal after years of disappointment and underperformance. For the first time at an Olympics, Team USA was comprised of professional US National Basketball Association (NBA) players, including the legendary Michael Jordan. Since this 'Dream Team' was formed, the USA men's basketball team has won seven golds at the last eight Olympics, including most recently at Tokyo 2020.

The NBA features the world's best men's players, all of whom compete in a grueling 82 game regular season and an extended playoff format for the championship. The high stakes and enormous investment in the league mean teams are constantly looking for ways to improve, from scoring more points to playing more efficient basketball – ultimately, they are only in it to win it and to find that competitive edge, many of them are turning to data analytics.

Most teams now boast highly capable analytics departments within their front office, leveraging the incredible range of statistical information that is available within the sport. This readily available data is supplemented by advanced video analytics data that provides even more granular analysis of the game – suffice to say, there is a lot of data to harness and it has the potential to revolutionize the NBA.
Leveraging data to improve performance
Scouting is a critical component of a basketball team's success, from building the right team to setting it out for success in each match. To form the right team, data is becoming a critical component in supporting draft and trading decisions. Using predictive analytics, teams can analyze historical playing data – either in the NBA or even in college and high school – to understand the potential of a certain player, as well as identifying playing traits that may or may not suit the team's style. Such insights are critical in the drafting process because of the significant cost of making a bad draft pick.

The scouting team also leverages data to understand their opponents' collective and individual playing styles and tendencies to build strategies to defeat them. Data is now at the core of this. Taking match-up data to isolate an opposing player because they are not a strong one-on-one defender, for example, can help maximize the percentage chance of their team scoring.


And the observations and data on player performance are getting deeper and growing more frequent. In the 2020 NBA bubble, all players had to wear a ring that monitored their temperature, pulse, and breathing rate. The rise in wearable technologies allows teams to capture data on issues that would have previously only been gleaned from questions, subjective assessments, or after injury or fatigue has set in. This sort of data is being used to drive decisions around training intensity, nutritional requirements, and recovery planning to avoid stress and injury.

The way in which NBA games are won has changed significantly over the last 20 years. The accompanying graphic illustrates a hex map of where most shots are taken from on the court during a game. As you can see, short and close two-point shots have fallen out of favor for a higher risk-reward three-point shot and this is in large part down to the data-led executives of the hugely successful Golden State Warriors. They identified that NBA players made the same percentage of shots from 23 feet as they did from 24. But because the 3-point line ran between these two distances, the values of those two shots were radically different. Shots from 23 feet had an average value of 0.76 points, while 24-footers were worth 1.09. By moving back just a few inches before shooting, a basketball player could improve his rate of return by 43%.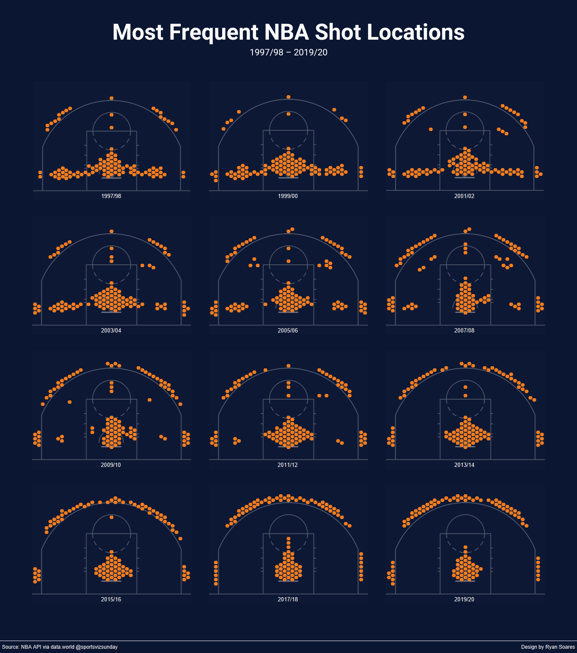 Source: Digg.com
The NBA is at the forefront of data analytics adoption. Teams can now make decisions with more certainty than ever before through the use of the huge and growing amounts of data they are collecting. It is not a single-use case either – data analytics can be used across the basketball organization at all levels from player sourcing to performance design and management to maintenance.

Just as the Golden State Warriors' data-loving executives identified a market inefficiency so too could any business operating today if they use the data effectively.