As a former distance runner, I have seen first-hand how investment in elite sport is accelerating athletic performance. Just as the world has developed, our physical capabilities have too. New lifestyles, technologies, science, and world-class facilities all help to enable athletes to go 'Faster – Higher – Stronger', as the Olympics motto states.
The evidence of this progression is clear. The winner of the 1904 men's Olympic marathon ran 3:28:52. Compare that to the winner in 2016 who registered a time of 2:08:44 – that is a 90-minute difference. And even this time was six minutes slower than the world record of 2:02:57 – a blistering pace of 4:41 minutes per mile for 26.2 miles.
Then, in 2016, global sportswear giant Nike unveiled the Breaking2 project. A challenge like no other, Breaking2 aimed to break the two-hour marathon time. Impossible, right?
Using data and insight to push harder and faster
Achieving this ambitious goal would take more than asking the athletes to try a bit harder. Nike created a data-driven and scientific approach that leveraged the latest technological advancements across all aspects of marathon running. All this insight combined to drive decisions on the various factors that would influence overall event performance.
Breaking2's success would largely depend on the athletes. Nike only considered the world's best for the project. So, they analyzed a select group of their sponsored athletes across historical race data to establish suitability and tested them across four main components:
Body measurement and elasticity

Biomechanics

VO2 max

Running economy
They used these model inputs to estimate overall marathon performance.
By analyzing the results, Nike gained clear insight into athlete capability for the event. Eventually, this would lead them to select Kipchoge, Desisa, and Tadese as the athletes most likely break the two-hour marathon barrier.
The athletes had six months to train for the event, which was set for May 2017. To ensure maximum performance come race day, the coaching team optimized every component of the training process. The coaching staff monitored the athletes constantly using real-time oxygenators. This allowed them to assess effort level on oxygen consumption within a workout.
The data provided the necessary insights that would allow coaching and support teams to design better training regimens.
How optimization led to maximum performance
Even with this laser focus on athlete physiology, Nike gave equal attention to maximizing ancillary elements.
This began with race kit and accessories. Athletes wore tape on designated parts of their bodies – typically their shins – to boost aerodynamics and efficiency. Design teams produced innovative racing vests to cool and wick faster than traditional garments. Shoes were of utmost importance and manufacturers designed the Zoom Vaporfly Elites specifically for the project that contained a built-in carbon plate to divert energy back into the runner, aiding performance by as much as 4%.
Race venue and environmental conditions were critical. The coaching team analyzed historical temperature, humidity, and vapor pressure data across the potential locations. Eventually, they determined that the Monza racetrack in Italy was the best fit. Alongside its suitability from an environmental standpoint, it was also optimal in terms of length and elevation.
The Breaking2 project culminated with Eliud Kipchoge running 2:00:25, only 25 seconds short of the target time. Although the attempt ended in failure, this was still over 02:30 quicker than the existing world record and would provide the catalyst for the INEOS 1:59 Challenge in 2019. It was here that Kipchoge finally broke the two-hour barrier, running 1:59:40 – the fastest marathon of all time.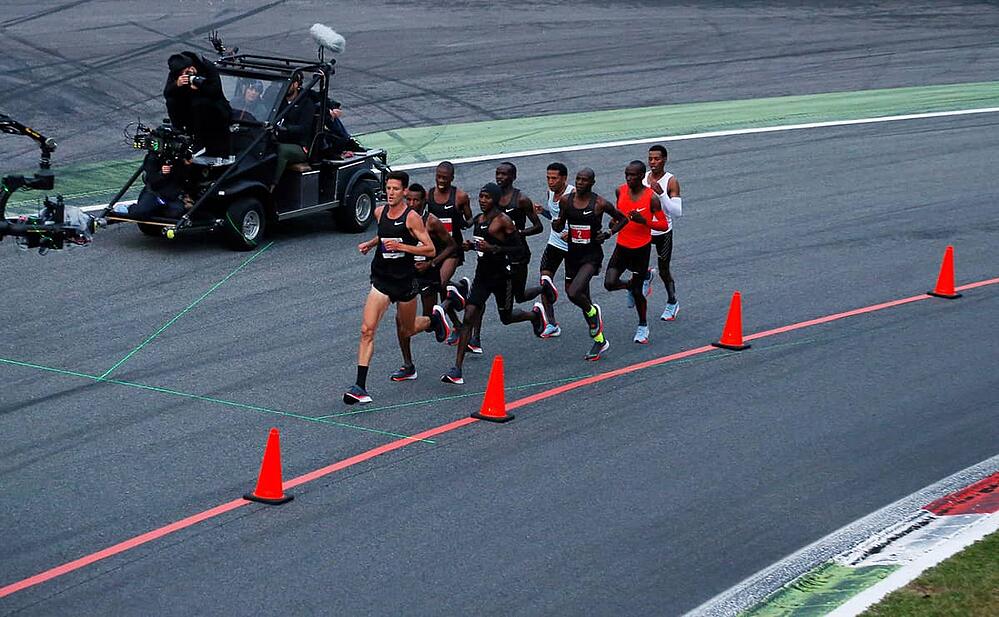 REUTERS / ALESSANDRO GAROFALO - stock.adobe.com
So, where does this fit into in-store performance? What does it tell us about how you can improve retail store operations through data analysis?
The Breaking2 project does more than highlight the physical potential of human beings. It demonstrates the vital role technology and data analytics play in process optimization and the value this provides – whether you are a high-performance distance runner or a retailer.
We might not be trying to run a 4:37 mile. But every day, Retail Insight is committed to improving retail store performance for our clients.
It is not enough to hope for a better result by focusing solely on output metrics. It is about defining a system that everyone understands and using retail technology and data to get faster, higher, and stronger.